Use this guide to set up your Hitachi air conditioner and enjoy all its benefits!
Enable and configure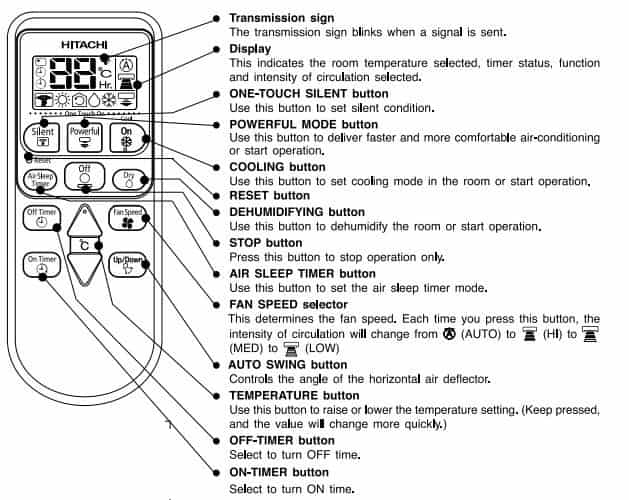 Point the remote control towards the wall unit of the split system from a distance of no more than 8 meters and press the START/STOP button. You should hear a distinctive beep and see the green LED on the device body. This means that the air conditioner is on. To disable it, press the START/STOP button again.
The air conditioner can be set up in automatic and manual mode. To turn on automatic mode, press the FUNCTION button one by one until you see the icon on the remote control display.:
Don't forget to adjust the temperature (the up and down buttons).
Click on the FAN SPEED button if you want to adjust this setting. Each time you press it, the speed will increase in the following order: auto → low → medium → high.
With the AUTO SWING button, you can adjust the position of the blinds located in the wall unit of the air conditioner. The blinds adjust the direction of the air flow. When you first press the button, the blinds will start moving up and down. When pressed again, they will lock in the specified position.
Please note
The remote control is powered by two batteries. Replace them every six months or a year. The picture below shows how to do this correctly.
Do not use old and new batteries at the same time. If you do not plan to use the remote control for more than two months, remove the batteries from the case to avoid leakage.
Results
The Hitachi air conditioner control panel is easy to use. You just need to spend a few minutes studying the instructions. If you still have any questions, ask them in the comments below. Good luck!